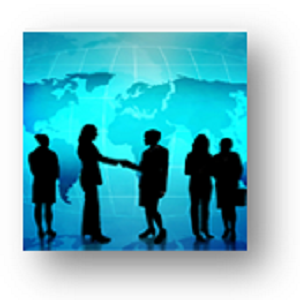 e-CRMSoft (Web Based CRM Solution)
e-CRMSoft (Customer Relationship Management System) helps companies optimize customer relationships by integrating marketing, sales, and service. By providing a full 360-degree view of customers, the system enables a consistent and continuous customer dialogue based on real-time information. With this advanced e-CRMSoft solution, you can make the most of every interaction with every customer across every channel or touch point. As a result, you gain true customer insight, along with the ability to act on that insight, which leads to an ultimate satisfaction and hence brand building.
e-CRMSoft provides the tools your company needs to engage customers in a multi-channel, closed-loop dialogue that nurtures their loyalty to the products & services to improve bottom-line results.
Features of the e-CRMSoft:

Web Based-Developed with VS.net technology)
Fast Data transfer via internet and intranet
Required format data transfer
Multi user
Centralize database
Online Help
Easy to Customize report
User wise date recallers
Easy to install and use
Database Security
Automatic backup and recovery
User access depends on role and rights
Removal of data dependency
Offline and online data transfer
Intranet messaging
Searching and query
Online mailing of documents ie work order
User defined auto generated code
Platform independent
System independent
Online tracking of data
Maintenance of log files
History files
Reduction in cost of client node installation
e-CRMSoft Module Details:

Administration
Sub Modules

Features

Reports

Data Security
Roles & Rights Creation based on Forms/Reports
/Events (Add/Modify/View/Delete).
Log files (User wise/ Event Wise)
Database backup
Database Recovery
Database Transfer
Data Deletion with History Files
Backup Reports
Data Transfer Reports
Recovery Reports
Log Reports
Go Back to Module Details
Marketing

Sub Modules

Features

Reports

Enquiry
Estimation
Quotation
Order Acceptance
Schemes offers
Customer Data Maintenance
Customer Enquiry
Enquiry Allocation
Enquiry Follow-ups
Costing/ Estimation Preparation
Quotations
Revision of quotations
Offer Maintenance
Order Acceptance Data maintenance
Order Acceptance Amendments
Advances Received
Advances License
Sales Analysis
Price List (Product wise/ Customer wise)
Currency Conversions
Export Indent
Enquiry Analysis Reports
Source/ Type Wise
Product wise
Area/ Section Wise
Attended/ Not Attended
Converted Percentage
Rate Difference Register
Cost Register
Quotation Reports
Enquiry wise
Existing/ Non Existing Customer wise
Product wise
Value wise (High/ Low/ Medium)
Product wise Hit Ratio Analysis
OA Register
Sales analysis Graphs
Go Back to Module Details
Document Management

Sub Modules

Features

Reports

Contacts
Inward
Outward
Contact Detail Maintenance
Contact Retrieval
Attaching Scanned Documents with Details
Accessibility of Scanned Documents
Automated Reply
Mass Mailing
Log Register
Inward Register
Outward Register
Go Back to Module Details
Tendering

Sub Modules

Features

Reports

Tender
Tender Data Maintenance
Tender Tracking
Tender Document Generation
Agreements
Tender documents
Tender Register
Earnest Money Register
Rejected Tender Register
Cleared Tender Register
Tender Status Register
Go Back to Module Details
Project Tracking

Sub Modules

Features

Reports<8/center>

Project Tracking
Project Data Maintenance
Project Status Tracking
Project Reports
Project Register
Go Back to Module Details
Projection and Planning

Sub Modules

Features

Reports

Projection Planning
Sales Projections
Projection Plans
Projection Status
Projection Analysis
Projection Register
Status Reports
Analysis Reports
Go Back to Module Details
Sales and Dispatch

Sub Modules
Features
Reports
Packing
Dispatch
Invoicing
Fleet
Export
Packing Slips & List
Sales notes with date and time
Systematic Scheduling
Delivery Challans
Dispatch Schedule
Dispatch Instruction
Daily Dispatch
Commercial Invoices
Sales Return
LR Slips
Fleet Maintenance
Efficient Transport and Follow ups
Export Document Generation
Sales Register
Schedule VS Dispatch Register
Packing List Register
Sales Return Register
Sales Analysis Reports
Fleet Maintenance Register
Export Register
Go Back to Module Details
Customer Care

Sub Modules

Features

Reports

Customer care
Proactive Alerts
Online Help Support
Customer Complaint Maintenance
Allocation of Customer Complaints
Complaint Register
Allocation Register
Complaint Status Register
Go Back to Module Details
Event Management

Sub Modules

Features

Reports

Campaigning
Product Promotion
Training
Events
Event Planning & Budgeting
Event Allocation
Resource Allocation
Event Tracking
Visitors Tracking
Event Register
Visitors Register
Go Back to Module Details
Resource Booking

Sub Modules

Features

Reports

Resource Booking
Resource Data Maintenance
Confirmation Trough E-mails
Booking of Resources
Resource Maintenance
Resource Allocation
Advanced Search Capabilities
Flexible Time Management
Resource Usage Register
Resource Register
Booking Reports
Booking Cancellation Register
Go Back to Module Details
MIS

| | | |
| --- | --- | --- |
| Sub Modules | Features | Reports |
| MIS | All Analysis processing for data required by Management | Various MIS Reports |
Go Back to Module Details